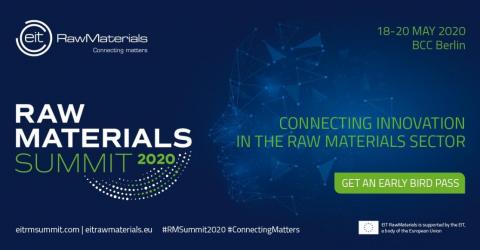 Raw Materials Summit 2020
The registration for the Raw Materials Summit 2020 is now open!
THE GLOBAL INNOVATION AND TECHNOLOGY CONFERENCE IN THE RAW MATERIALS SECTOR "Connecting science, technology and innovation in the raw materials sector for the green energy transition"
This year, the #RMSummit2020 will envision the future of the #rawmaterials industry in line with the priorities of the #EUGreenDeal.  We will address digitalisation and innovation in the transition to green energy supply and e-mobility.
Don't miss it and get an early bird pass!  Link: https://www.eitrmsummit.com/registration
More information: https://www.eitrmsummit.com/